About Us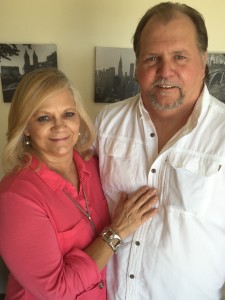 Thank you, for giving Bee Clean the opportunity to share information about our company. We are family owned and operated. We take pride in the service we provide for you, because our success depends on your satisfaction. We (Ronnie and Debbie Murrell) started Bee Clean in January of 2002. Ronnie was employed with another cleaning company for several years where he was a successful manager before starting Bee Clean. We have grown successfully over the years with hard work and dedication to our customers.
We own all the equipment necessary to clean and maintain your facility, including carpets and hard surface floors. We can strip and wax your tile floors for a beautiful shine then maintain them in our regular routine duties. Carpets can be cleaned using our hot water extractors or the bonnet method then maintained with frequent spot cleaning to provide better looking and longer lasting carpet. Our services include office cleaning, retail space, full service rest room cleaning, restaurants, houses, apartments, churches, new construction clean up, and move in/out clean up.
One of our supervisors will be in your business periodically to make routine inspections, for quality assurance. Any time you request I will schedule a walk through with you and we can make changes in the routine cleaning if necessary. All employees of Bee Clean that enter your place of business will be well trained and knowledgeable to your specific cleaning needs.
Our services are provided according to your needs. We offer day time service as well as night time services from 1-7 days per week. We also provide one time, weekly, or monthly services. You decide how many and which nights will accommodate your needs, and together we will work out a customized cleaning program to fit your company.
Bee Clean is bonded and insured for bodily injury and property damage, we also carry workers compensation for your peace of mind. We will provide you with all the necessary copies of this information before signing contracts between companies. We will also provide you with a reference list to prove our satisfaction guaranteed policy.
Once again thank you for allowing us to share this information with you. We promise to do everything possible to make our business relationship with you proficient and long lasting. We look forward to doing business with you in the near future. I encourage you to call and talk with me personally if there is any information I can provide you with that is not covered in this letter.
Bee Clean Cleaning Service Inc.
7749 E. 11th #C
Tulsa, Oklahoma 74112
(918)-836-4909